Cool Stuff For Kids To Perform
Over 60 scripts and 20 improvs for kids age 7-18 yrs
Anna Waters-Massey is a Drama teacher and experienced performer. She has taught Drama for many years, performed in various theatre productions, TV and film, and regularly does voice overs and jingles for studios and production houses.
Scripts inspired by kids, for kids to perform
This book is a collection of over 60 monologues and short 2-3 minute scripts for 2-4 people. As well as the scripts, 'Cool Stuff For Kids To Perform' contains some raps and more than 20 improvisation activities. The scripts are suited to primary and secondary students.
Monologues, duologues, trios, fouros, raps & improvs
'Cool Stuff for Kids to Perform' makes a great class set to be used over and over and children have embraced the 'real' language used throughout it.
The inclusion of photos as starting points for improvisations, are wonderful classroom activities and promote creative dramas, as well as script work and story telling.

The scripts are ideal for festival and eisteddfod work due to their length and all pieces have been well received by audiences. They also make great short films, audition pieces and showreels.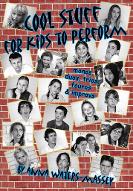 Buy selected scripts from "Cool Stuff For Kids To Perform" as Ebook PDF versions - $5.00 AUD
Each script is approx. 2-4 mins length
The Hairdresser - duo and trio version for a hairdresser and customer(s) BUY NOW
When Delia goes to the Hair Salon, all she wants is a trim. Unfortunately the pretentious hairdresser or 'stylist' as she likes to call herself, has other ideas. Neither Delia or the Hairdresser are happy with the outcome.
A duo/trio written for girls but can easily be played by boys which would add to the humour.
Four Eyes and Train Tracks - duo for two school children BUY NOW
Amy and Dylan have things in their lives that are causing them to be self conscious. No one likes to be picked on. Maybe they can help each other?
This duo could be played by both boys and girls.
The Geek - monologue for a boy in his early teens BUY NOW
Poor Cecil Muggeridge just wants to fit in, but with a name like that, what chance does he have? He really needs to do something about his image so Jonesy, the school bully, will stop picking on him.
Tiffany Golden - monologue for a teenage girl BUY NOW
Tiffany Golden is THE most popular girl in the school, with THE hottest boyfriend Brad, the School Captain. Everythng is perfect until Kristy Brown gets voted the female School Captain instead of Tiffany.
It's Just a Game - duo for parent and child BUY NOW
Jake is driving his Mum crazy playing Play Station. Why is Jake yelling at the TV? It's a game....isn't it supposed to be fun?
The School Bus - duo for two teen girls BUY NOW
Madelaine and Julia catch the school bus home everyday. So do Tiffany Golden and Brad Warren, the most popular couple in the school - or so they think.
But what do Madelaine and Julia think of them?
The Principal's Office - duo for two teens BUY NOW
Jonesy and Sasha have found themselves outside the Principal's office. For Jonesy this is a regular occurrence, but Sasha is scared what his parents will say when they find out. After chatting with Jonesy, he realises what different homes they come from. Can Sasha turn this bad boy around?
Originally written for two boys, but could easily be played by girls.
The Naughty Spot- monologue for a young boy or girl BUY NOW
Who on earth ever told Mum about "The Naughty Spot" ? The stupid Super Nanny, that's who! Punishment never used to be this annoying!

Individual Scripts For Sale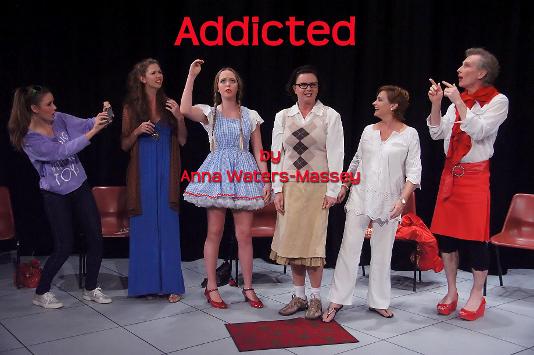 Cast of the Gold Coast Little Theatre 2011 Production of 'Addicted
Addicted

6 characters

15-20 mins length
Who would have thought a librarian, a performer, a beautician, a housewife and a teenager would have anything in common? Six strangers gather together at a support group for Addicts. We realise each person is addicted to something different as they share their stories and when Fiona enters with a phobia, they realise she has come to the wrong support group. What transpires is a bonding session, resulting in a life changing step for Fiona. Everyone is happy with the outcome except the disagreeable Phoebe.
Purchase of this script allows the buyer to make a limited amount of copies for cast and crew only.
Click to purchase "Addicted"
The Mirror of Truth

4 characters
Approx 4 mins length
Three boys are playing in the attic when they discover a mirror that talks! This play is for four people but can easily be adapted to suit both boys or girls.
Click to purchase "The Mirror of Truth"